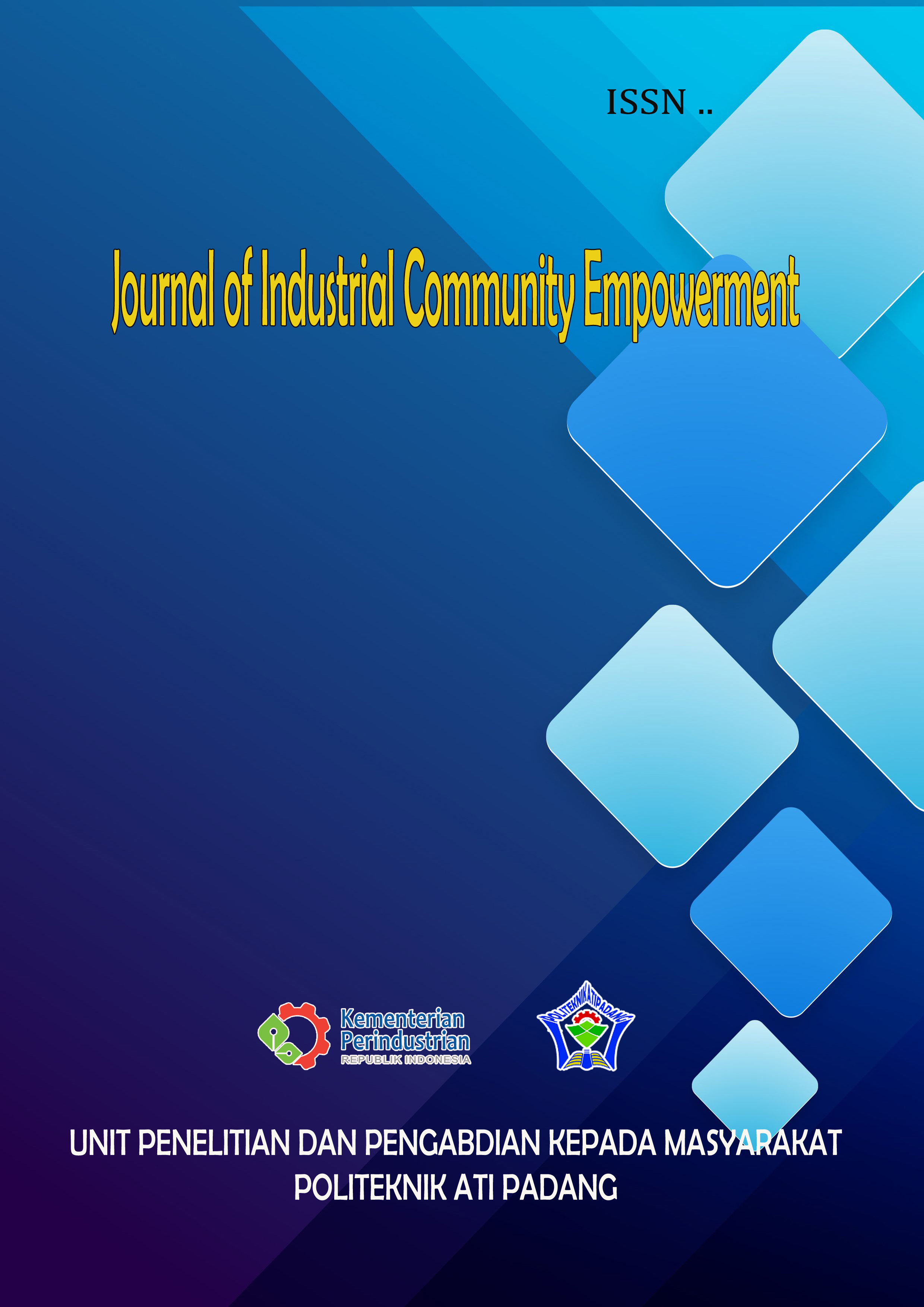 Journal of Industrial Community Empowerment is a journal published as a result of Community Service activities that focuses on the development of Small and Medium industries, or Micro, small, and Medium Enterprises. This journal focuses on Empowering Small and Medium Industries, Application of Industry 4.0 in Small and Medium Industries, Empowering Family and Community Economy, Creative Industry Development, and Entrepreneurship. The Industrial Community Empowerment Journal is managed by the Unit of Research and Community Empowerment of Politeknik ATI Padang, a Vocational Education Institution managed by the Indonesian Ministry of Industry, and is published in April and October.
DOI Prefix: dx.doi.org/10.52759/JICE
No announcements have been published.
Table of Contents
Articles
| | | |
| --- | --- | --- |
| | Dennis Farina Nury, Arysca Wisnu Satria, Deviany Deviany, Mustafa Mustafa, Akhmad Zainal Abidin | 1-6 |
| | Hasnah Ulia, Apsari Puspita Aini, Enny Nurmalasari, Miftahul Khairati, Muhammad Zulfikar Luthfi, Agung Kurnia Yahya | 7-12 |
| | Rita Youfa, Desniorita Desniorita, Radna Ningsih, Sri Elfina, Adlina Safitri Helmi, Oktrison Oktrison, Jerry Jerry | 13-18 |
| | Anang Baharuddin Sahaq, Resi Levi Permadani, Syamsul Anwar, Reni Sutri, Kushisa Atta Jaeba, Lusi Rahma Yanti | 19-23 |
| | Gustiarini Rika Putri, Rizki Fadhillah Lubis, Fikri Arsil, Tosty Maylangi Sitorus, Zulhamidi Zulhamidi, Rahmad Syukur Siregar | 24-29 |